When Speed & High Quality Meet
Creating Power to Disperse
| | |
| --- | --- |
| | Philosophy made simple, so easy to handle. Ability to achieve quality results fast. It has the speed and power to emulsify, suspend, cut-up and disrupt to yield accurate results every time. Full flexibility as hand-held, post or wall mounted, with H-Stand or Plate-stand support. |
| | |
Drive
Top speed of high 29,000 rpm rate, reduces processing time significantly. Big safety switch for unexpected emergency stop. Smooth motor drive makes working, very safe and comfortable. Additional feature of automatic overload protection increases the life span of the motor. Smooth start also prevents unnecessary spills.

| | |
| --- | --- |
| | Power input : 500 watt |
| | Voltage/frequency : 230V/50 – 60Hz, 110V/50 – 60Hz |
| | Speed adjustment : continuosly variable |
| | Weight : 1,3 Kg |
| | Housing dimension : 70mm x 70mm x 255mm |
| | Shaft size : 20 mm |
| | Overload protection |
| | Safety switch : smooth start of the drive |
| | CE-conformity |
Dispersing shaft 5 mm
Dispersing shaft for volumes from 1 to 50 ml with rotor/stator configuration which has been particularly developed for tissue decomposition, clinical and medical diagnostics and suspensions . Suitable for centrifuge products and Eppendorf tubes, centrifugal glasses, cuvettes etc. Easy to dismantle dispersing element which can be sterilized according to all methods. Powerful 500 W drive with infinitely speed control from 10,000 to 29,000 rpm.

| | |
| --- | --- |
| | |
| | Volume 1-50 ml |
| | Diameter stator 5mm |
| | Diameter rotor 3.8mm |
| | Tip speed: 5,8m/sec |
Shaft
Flexible configuration of different rotors and stators, make the tool highly adaptive to most applications. The shaft is constructed of quality 316 L stainless steel. Reliable results are assured with extremely high precision and speed. Assembly and disassembly of rotors require no special tool and can be done in a few seconds using only a piece of cloth.
Rotor-statora-principle
The rotor / stator system consists of a stator fixed to a shaft, enveloping a rotor fixed to the axle. The coaxial slits on the stator, comes with different spacing for size reduction and mixing of substances. The sample's degree of fineness increases as slit spacing decreases.
Process of dispersing :
The material is sucked in to the head axially, then accelerated using the rotor's high rpm rate, circumferential or peripheral velocity. The centrifugal acceleration between the outer rotor wall and the inner stator wall propels the material through the stator shearing slits.

Quick-change-system :
WiggenHauser tools consists of only a few parts. One shaft, one axle, one Teflon bearing and one rotor stator. No special tools are needed to dissemble. Only requirement is a simple piece of cloth.

Advantages of WiggenHauser homogenizer :

| | |
| --- | --- |
| | Continuosly adjustable speeds for better results |
| | Light-weighted and small-dimensioned for better handling |
| | Triple safety of the drive (overload protection. Smooth start – against jerky work, safety switch) |
| | High quality dispersing tools as standard for better resistance to corrosion (SS 316 L steel) |
| | Quick-change system of the dispersing tools for a short changing time between preparations |
| | Viscosities up to 10,000 cps |
| | One shaft size |
| | High quality lab dispersing unit, at a competitive price!! |
| | Two years warranty |
| | |
D 130 Handheld Homogenizer
The D 130 is a rotor/stator type hand held tissue homogenizer which can rapidly homogenize, disperse, and emulsify samples in 0.1 - 50 ml of liquid or 1-250ml depending on the dispersing shaft. During operation, the suspended material is drawn into the core of the homogenizer by a rotor turning at up to 30,000 rpm.

The material is repeatedly cycled through narrow slits in the stator where it is rapidly sheared and disintegrated by high shear mechanical action. Complete homogenization of tissues (muscle, liver, breast tissue, etc.) is usually achieved in a few seconds. Little, if any, heat is produced during the process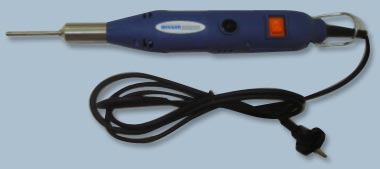 Specifications
| | |
| --- | --- |
| | Sample Volume Range: 0.1 to 50 ml or 1ml to 250ml |
| | Universal Motor: 230 V 50/60 Hz, 130 watts |
| | Variable Speed: 8,000 to 30,000 rpm, incremented by scale |
| | Shafts made of 316 L Stainless Steel with Teflon bushings |
| | Weight: Approximately 1/2 Kg, 2 years warranty |
| | |
Features
| | |
| --- | --- |
| | Use for mixing, emulsification, shredding, or chopping. |
| | Practical answer for small samples. |
| | Easy to hold and light weight for one hand operation. |
| | Autoclavable stainless steel shafts. Inert to aggressive solutions. |
| | All shafts are interchangable shafts and are easily removed for cleanup. |
| | High speed motor. Speed control from 8,000 to 30,000 rpm. |
| | |